YOUR ROOF IS THE PERFECT SPOT TO HIDE YOUR MONEY.
We install the only leak-free, insulated roofing system that will pay for itself and last a lifetime.
Contact Us
Learn More
RESIDENTIAL FOAM ROOFING
Guaranteed Competitive Price

FREE Telephone Consultation
Manufacturer Qualified Contractor
Low Environmental Impact, No Tear Off
COMMERCIAL FOAM ROOFING
Save on Heating & Cooling
Low Environmental Impact
Never Replace Your Roof Again!
Up to 20 Year Full Manufacturer Warranties
Solar Installation Experts
FOAM AND SOLAR SOLUTIONS
26% Federal Tax Rebate
Permanent Solar & Roof Installation
Free Off-Grid Analysis
Eliminate Your Utility Company
Only True Solar Roof on the Market
Competitive Price Guarantee
We Offer Up to 20 Year Warranties
Certified Master Foam Applicators
We Restore Existing Foam Roofs
Multiple 5 Star Google & Yelp Reviews
California Certified Cool Roof Coatings
Extra Energy Savings From Insulation
See More Reviews on Yelp!
See More Reviews on Google!
Watch Our Foam Roof and Solar Installation System in Lafayette, CA
Watch Gus with Foam Roof Solutions explain the process
RESTORE DON'T REPLACE. SAVE TIME, ENERGY & MONEY
At Foam Roof Solutions, our main goal is to educate families and building owners on how they can contribute a positive environmental impact by restoring any existing commercial or residential flat roof system. Foam Roof Solutions will work with you to restore your existing flat roof and save you the money and the headache of tearing off and rebuilding your roof and reducing the amount of hazardous landfill waste for the environment.
Why tear off your old roof when you can completely restore it with closed cell, sprayed polyurethane foam (SPF)? All other conventional roofing systems require complete tear-off when replaced, filling our landfills with unnecessary waste. Other roofing systems also emit environmentally harmful gasses in direct sunlight and require replacement every 5-10 years. But with proper minimal maintenance, your SPF roof will last a lifetime!
As the leading Bay Area Foam Roof consulting team we want you to know how the cost of restoring your old roof with a spray foam roofing system is your best option for keeping your investment leak free and reducing your carbon footprint.
The superior insulation of a spray foam roof can lower the temperature in your home or building up to 20 degrees, saving you money on air conditioning and heating.
In most cases, no tear off of your existing roof is required, saving time, money and landfill disposal.

Spray foam is rated by the EPA as low emission during application and is not harmful to humans or animals.

Spray foam roofing is inert when cured, and cure time is only about 2 minutes.

The top-coat is title 24 approved (reflective and has no off-gassing), water based and lasts for 15-20 years.

10, 15 & 20 year manufacturer full warranties available.
Please contact us if you would like to take part in one of the best possible ways to help the environment by installing a new foam roof or restoring the one you have by calling (800) 878-1480 today!
Fill out the form for a FREE estimate via email, or call (800) 878-1480 for a free foam roof quote.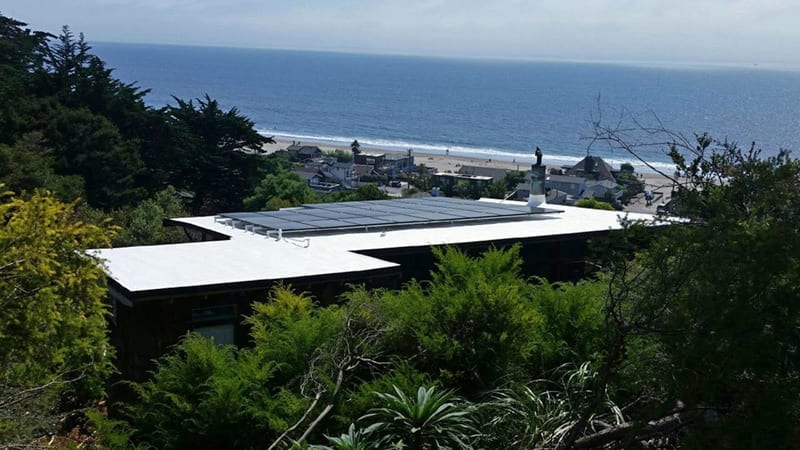 "Wow! Foam looks great, my house is warmer, and I look forward to never having to deal with it again. I thank you."
-Marc Rogiers