How to find San Francisco Bay Area Foam Roofing Contractors
There are a handful of sprayed polyurethane foam (SPF) roofing contractors in the San Francisco bay area.
Some of them are listed in your online search, however not all.
With climate change, the average temperatures of the San Francisco Bay Area are increasing year by year, so installing an SPF roofing system is the smartest thing to do. And choosing the right San Francisco Bay Area spray foam roofing contractor is becoming more and more important to residential building owners.
THE SAN FRANCISCO SUNSET DISTRICT
The residential area of the sunset district in San Francisco is approximately 5.8 square miles and most of the area is covered with flat roofs. Although you can't see them (they are hidden behind a mansard which hides the 4-sided roof), they are all between 800 and 1,500 square feet and have parapet walls.
You must hire a contractor who understands the installation specifications for foam roofing in the Bay Area. Foam Roof Solutions can partner your flat roofing project with a manufacture qualified and certified San Francisco bay area foam roofing contractor who knows the residential specifications and installation applications for these types of roofs.
See More Reviews on Yelp!
See More Reviews on Google!
SAN FRANCISCO BAY AREA EICHLER COMMUNITIES
There are several Eichler, post-modern home communities in the Northern California region. Our Foam Roof Solutions, San Francisco bay area contractors are all experienced, Eichler community installers. They are manufacturer certified and Sprayed Polyurethane Foam Alliance (SPFA) master sprayers. In the San Francisco bay area, there are thirty-two different Eichler communities. North San Francisco bay area includes four communities in the San Rafael area, Tibouron/Mill Valley and San Anselmo, CA. In the East bay area of San Francisco, the communities include Walnut Creek, Concord, Oakland Hills, Castro Valley, Diamond Heights, Cathedral Hill, Russian Hill and Visitacion Valley. Burlingame, Atherton, Redwood City, Portola Valley, Menlo Park, Hillsborough, Foster City, San Mateo, Cupertino, Los Altos, Monte Sereno and Mountain View are encompassing the San Francisco Peninsula and North and South Silicon Valley. Finally, in the San Francisco South bay, Palo Alto, San Jose, Saratoga, Santa Clara, Sunnyvale and Stanford all have Eichler communities. So, as you can see, Joseph Eichler had a clear vision not only of his post-modern home design, but the size of his communities. Nearly 11,000 homes.
Again, with the climate rising every year, SPF roofing system is the only way to go when insulation is needed for a non-insulated home. The average home size for an Eichler roof varies from 1,200 square feet to 1,500 square feet, however the roof size is much more than that. The garage and the 18" – 24" overhang can add as much to the roof size as double the home's floor plan. Some Eichler roofs can have a size of nearly 3,200 square feet. When getting estimates from San Francisco bay area foam roofing contractors, you can expect to pay as much as $12 per square foot and if you're really shopping and a good negotiator, you may be able to find a foam roofing contractor to install a foam roof for as little as $7 per square foot. Be careful not to pinch your pennies too hard as spray foam is no simple process and quality over price is usually a good rule of thumb. At Foam Roof Solutions, we can offer two or three qualified San Francisco bay area foam roofing contractors who will do a great job at a competitive price.
STRENG HOME COMMUNITIES
Our residential foam roofing Bay Area foam roofing contractors will also service the Sacramento and Davis, California areas. Houses built by Streng Bros. Homes; Inc are also in the Foam Roof Solutions wheelhouse. These are mid-century modern (MCM) homes which were designed by Carter Sparks which have low pitched roofs, high windows and skylights in many cases. They often have terrariums too! Because of the low pitch and high temperatures in the Davis/Sacramento areas an SPF roofing system is the only real solution to a very hot problem. Foam Roof Solutions contractors have years of experience installing SPF roofs in the Central California regions as well and have found a 15-20 degree drop in the inside temperature of these homes once installed.
For more information, please call us at (800) 878-1480 to schedule a San Francisco bay area foam roof contractor estimate. You'll cool your home, help promote positive environmental change and be glad you did.
Fill out the form for a FREE estimate via email, or call (800) 878-1480 for a free foam roof quote.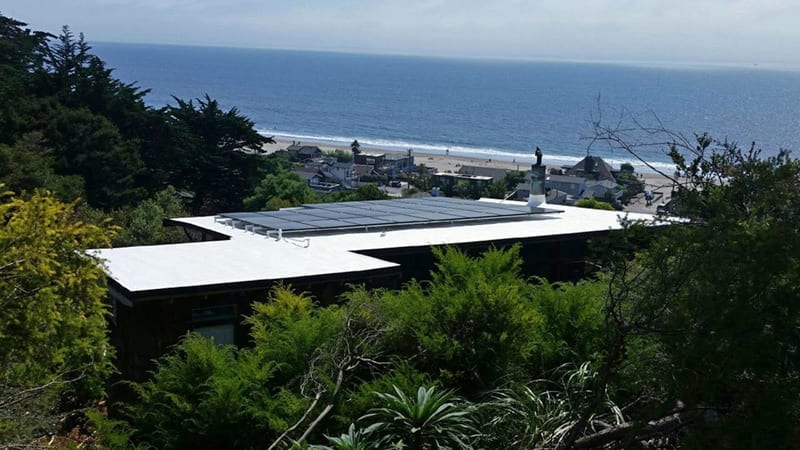 "Wow! Foam looks great, my house is warmer, and I look forward to never having to deal with it again. I thank you."
-Marc Rogiers