YOUR COMMERCIAL ROOF IS AN OLD, LEAKY, ENERGY WASTER.
We install the only permanent, leak-free, insulated roofing system that pays for itself.
FREE ESTIMATE
CONTACT US
WHY CHOOSE FOAM ROOF SOLUTIONS?
Perfect System for Commercial Solar Integration
Walkable Surface for Mechanical Maintenance
Certified Master Foam Applicators
We Restore Existing Foam Roofs
Multiple 5 Star Google & Yelp Reviews
California Certified Cool Roof Coatings
Extra Energy Savings From Insulation
Watch manufacturer video on how Foam Roofs are applied
Watch Gus with Foam Roof Solutions explain the process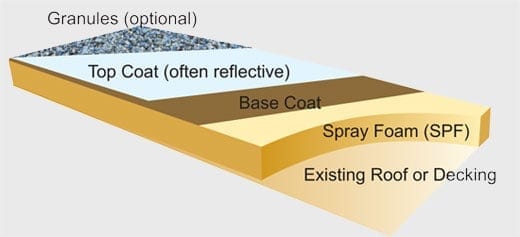 Watch Our Video Demonstration:
Get A FREE ESTIMATE!
To schedule an estimate with one of our commercial foam roof contractors please call our offices at (800) 878-1480 or use the contact form below:
"My existing 7000+sf foam roof was in pretty bad shape with significant surface cracking and blistering. It was 22 years old and had one re-coat as well. Other foam roofing contractors refused to bid on restoration and would only quote for a complete re-roofing.
Foam Roof Solutions took on the job with a 15 year warranty. They were courteous, on time and on budget. The roof looks new again, ready for many more leak free years. Very happy with the cost and avoiding the environmental impact of a complete re-roof."
-Parker Willis