Your roof is the perfect place to hide your money
We make sure your utility company never sees it again.
FREE ESTIMATE
CONTACT US
WHY CHOOSE FOAM ROOF SOLUTIONS?
CONTRACTORS WORKING TOGETHER
Priority scheduling between solar & roofing contractors
SEAMLESS ROOF & SOLAR INTEGRATION
Solar penetrations are 100% monolithic & seamless
PERMANENT SOLAR & ROOF INSTALLATION
No future solar removal or roof replacement required
Equipment & Installation Will Pay for Itself
2021 26% Federal Tax Credits Available
Most Major Solar Manufacturers
Bay Area Electrical Contractors
5-Star Yelp & Google Reviews
Licensed, Insured & Bonded
TESLA and EV Compatible Charging Stations
Solar Installations Since 2003
State-of-the-art Battery Back-Up Systems
Seamlessly Transfer from Utility to Battery Backup
Eliminate your Utility Company
"I called Gus of Foam Roof Solutions for some repairs needed because of some other construction at our house. He scheduled us with Alex who arrived right on time, did a thorough inspection with me and quickly noted that we didn't need what we thought at all. His crew quickly took care of what did need doing and now we're all set for winter except we have a few thousand more dollars in our pocket because of Alex's honest and ethical assessment. Highly recommend and we'll be using Gus and Alex again!"
Russell McDonald
FOAM ROOF SOLUTIONS CUSTOMER
"Alex and his crew did an amazing job repairing the blisters and re-coating my roof. He was onsite from beginning to end making sure everything was done to the highest standards. 12 years of blister problems and two contractors companies later, it was a great relief to see Alex carefully clean, remove old foam, fill, coat and recheck the roof several times. He communicated well throughout the job and it turned out great. Know this is a family run business that takes pride in doing a good job."
Margie Raetz-Bailey
FOAM ROOF SOLUTIONS CUSTOMER
"My existing 7000+sf foam roof was in pretty bad shape with significant surface cracking and blistering. It was 22 years old and had one re-coat as well. Other foam roofing contractors refused to bid on restoration and would only quote for a complete re-roofing.
Foam Roof Solutions took on the job with a 15 year warranty. They were courteous, on time and on budget. The roof looks new again, ready for many more leak free years. Very happy with the cost and avoiding the environmental impact of a complete re-roof."
Parker Willis
FOAM ROOF SOLUTIONS CUSTOMER
"Dear Gus..
I just wanted to thank you for recommending Advanced Foam Roofing to me. Alex and his crew were really wonderful. The work is done and I am very pleased with the whole process..
Alex Jimenez is a wonderful contractor. I felt complete confidence in his work and crew. Alex is so kind, patient and professional as was the rest of the crew. Highly recommended in my book.
Thank you..Edie Brusstar"
Edie Brusstar
FOAM ROOF SOLUTIONS CUSTOMER
"I had a wonderful experience with Alex Jimenez of Advanced Foam Roofing. First and foremost, Alex did everything as promised and when promised. The team was pleasant, polite, hard working, and cleaned up as they worked. Alex was on-sight the entire time. My job included the need to schedule with a solar company and when they (the solar company) changed their plans Alex went with the flow without complaint. He kept me apprised every step of the way. And the roof! Wow! Foam looks great, my house is warmer, and I look forward to never having to deal with it again. I thank you."
Marc Roegiers
FOAM ROOF SOLUTIONS CUSTOMER
"We have a flat roof and we have always experienced issues with leaking. Gus from foam roof solutions talked us through the benefits of getting a foam roof vs what we have always done. We are happy with our decision to go with foam roof solutions and contractor Brazos Urethane for our new roof. Customer service was amazing from both companies. Couldn't have been happier with the communication and follow through. They went above and beyond to ensure we were satisfied. Highly recommend if you need a new roof!!!!"
Reyna Graves
FOAM ROOF SOLUTIONS CUSTOMER
See More Reviews on Yelp!
See More Reviews on Google!
Watch manufacturer video on how Foam Roofs are applied
Watch Gus with Foam Roof Solutions explain the process
FOAM ROOF SOLUTIONS SOLAR INSTALLATION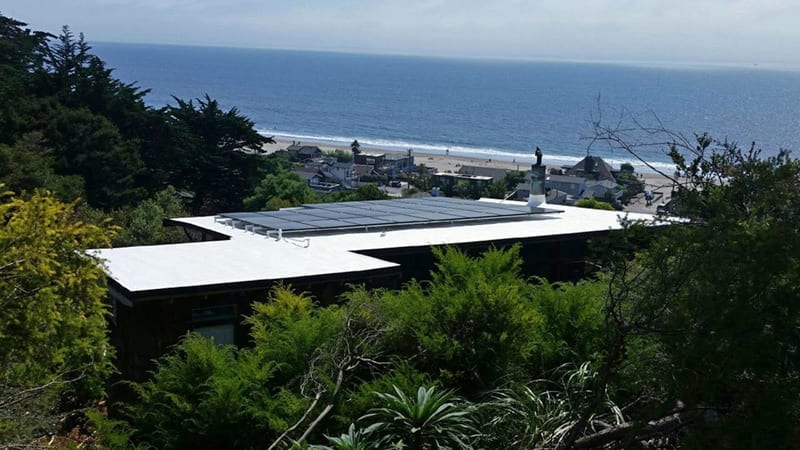 Speak to one of our team members about your roof. Let us earn your trust and business. Text or call now 925-433-1192