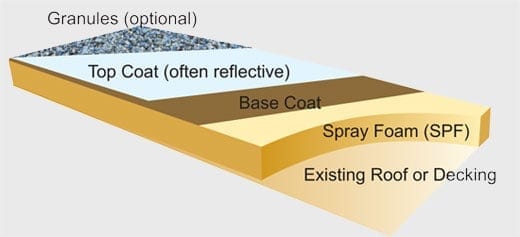 It is very important for the consumer to understand exactly what a spray foam roof consists of and how it works. This is important for several reasons.
1. Spray foam is a lifetime investment, so if your children or grandchildren inherit your property, you can educate them on how to maintain the foam roof system indefinitely.
2. If you decide to sell your home and you maintain a spray foam roof properly, you're roof will always remain as it was the day it was applied. This will save you a lot of money in the sales process, as there will not be a reason to give consideration in price, because the roof will remain fully intact
3. If you are purchasing a home with a spray foam roof, you will be more educated than just about everyone involved in the transaction. Realtors, conventional roofing contractors and home inspectors rarely understand the spray foam roofing system.
4. If you own a home with a spray foam roof, it is important to know the difference between the foam and the coating. Please see the picture attached to this post as it shows the layers of application.
You will see in the picture that the foam goes on before the coating. The foam is your insulated water barrier and the coating is purely for the purpose of protecting the foam from the sun's UV. THE COATING, WHETHER OR NOT IT IS ACRYLIC OR SILICONE, DOES NOT ACT AS A WATER BARRIER! So, please don't let a contractor "con" you into re-coating a leaky roof if they don't spray foam.
Spray foam applicators are specialists who need to know the proper temperatures and pressures to spray foam. Any contractor can spray coating (paint). Do you see the difference? One is a technical applicator of foam and the other is a painter. Two completely different levels of education and experience.
If you would like to know more about the spray foam roofing process, please call (800) 878-1480 for a free phone consultation or email gus@foamroofsolutions.com and I will give you a call. That's it for today, please keep an eye out for more of my blogs regarding the truth about spray foam roofing.